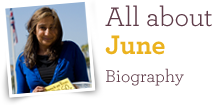 I have always been in the kitchen and have loved everything about cooking curry.
One of my earliest memories is my mum giving me the job of grinding the family's much loved secret blend of spices in the pestle and mortar whilst my brothers and sisters played in the garden! The kitchen was always the place for me, somewhere I felt relaxed and totally comfortable.
Read more about June & the roots of her Secret Curry Recipe...